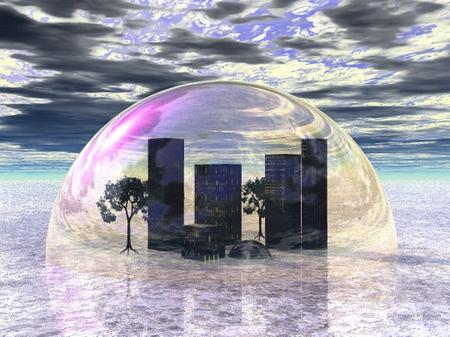 It's hard to predict what products, technology, and systems will be important in the next 10 years, but green experts say the looming energy crisis can give us a pretty good idea.
The best way to predict the future is to create it. ~ Peter F. Drucker
Sometimes all you have to do to see the future is look around and see where there is a need, where opportunities lie, and where the challenges will be.

Amazon (the Kindle), and Apple (the iPod) are well know examples of companies that understood that in an increasingly mobile world, consumers will want to transport more than one book or magazine at a time or be freed from the burden of carrying CDs.
These same consumers have needs and wants for their homes, too. While it's all too obvious that the world's growing population will require more energy and natural resources such as oil and water, which also means that providing sustainable homes that use less energy and water is likely to be a continuing preoccupation for the industry, the less obvious, however, is what products, technology, systems, and practices will best accomplish this?
Energy Use in the Home (2005) II
80% of residential energy use is consumed in single-family homes
15% is consumed in multifamily dwellings
5% is consumed in mobile homes
— U.S. Energy Information Administration, Residential Energy Consumption Survey 2005
Talking to the people who pay the most attention to such things—sustainable builders, consultants, green building program officials, and LEED-certified architects—they gave some insight into the future and what they see. They also gave some of the best new ideas that keep popping up in their inboxes.
Here is a list of 10 ideas that they think will be important in home building in the years to come. The collection is a sampling of ideas that will be pivotal in the future, but these are by no means the only ones. Take a look at their picks and let us know which of them you think will be important to the future of the home building industry.
1. The house will function as a system. 
"I think a piece of what green building is getting us to is not just building a house stick by stick or brick by brick but really looking at it as a system," says Amber Wood, program manager for energy efficiency at the NAHB Research Center in Upper Marlboro, Md. Simply put, everything in a house is connected. So, if you insulate better, you can use a smaller HVAC system. If you design your plumbing runs efficiently, it will save energy on heating bills. Though building scientists have been preaching about these connections for years, not many builders have paid attention. But Wood says manufacturers are making it easier for the industry to accomplish. "There are various products and different wall types and sections that are available now that I think will become more popular," she says. "A lot of the products are going to be integrating various pieces [of the system], including air sealing and insulation in the wall."
2. Modular goes mainstream. 
Some builders use a fair amount of panelization for floor and roof trusses, but usage could be much higher. Carl Seville, green builder and consultant, believes this will change. "Anything like SIPs and other panelized systems that will help cut the time of building a house and improve the quality should get more popular," says the owner of Seville Consulting in Decatur, Ga. There is no debating the benefits: less waste, faster construction, fewer moisture problems. These systems may not necessarily be cheaper, Seville says, but they will result in less site management. "Builders are slow to change, but modular and panelized systems have the potential to be huge in the industry."
3. Air sealing becomes easier. 
Energy Loss
An estimated 15% to 30% of a home's total heating and cooling energy is lost through poorly sealed duct-work, costing consumers about $5 billion dollars annually.
— Going Green Today
"People are starting to get it that air sealing is important," Carl Seville says. And there are plenty of products available to help do it correctly. Builders could air seal houses with caulk, or they could use foam, which hits all the nooks and crannies easier and better than caulk. Foam is very effective, but it's also very expensive, so companies such as Knauf and Owens Corning are introducing new systems that give builders a way to seal that is more reliable than caulk but less expensive than foam.
4. Water turns political.
Water Use
About 410,000 million gallons of water per day were withdrawn for use in the U.S. during 2005.
— U.S. Geological Survey
Most homeowners are oblivious about where water comes from or where it goes, but that's because it's cheap. Home buyers will be forced to think about water more as prices for its use and disposal increase. "Water is the topic [that's] about to burst into the forefront of the debate," says Michael Anschel, a principal and designer with green-focused Otogawa-Anschel Design-Build in Minneapolis. Look for products that eliminate septic systems and allow for the reprocessing of water on site, he says. "There are already systems available that start to do this," says Anschel, also the CEO of Verified Green, a green consulting and training company. "I expect they will become mainstream alternatives to traditional systems for new development and retrofit solutions for existing homes." Consumers should expect tougher regulations; manufacturers believe it's only a matter of time until the feds make low-flow showerheads and faucets mandatory. They also expect the government to lower the maximum allowable toilet usage from 1.6 gallons per flush to 1.28 per gallons. And, "In the faucet arena, the touch-sensitive technology from Delta is something that I think will become mainstream for kitchens," Anschel says.
5. Solar becomes accessible.
Solar installations are costly and often unsightly. But a new crop of solar-integrated roofing products from such companies as Dow Building Solutions, CustomBilt Metals, CertainTeed, and others are taking steps to change that. Roofing manufacturers' involvement in solar makes the systems easier and cheaper to put in place because they are installed at the same time as the roof. The seamless design of these solar-integrated products also means they will be a little more attractive. CertainTeed says it is "transforming a niche technology into a product that is more accessible to the building industry and, therefore, a broader range of homeowners."
6. High R-value windows become the new Energy Star. 
When President Obama signed the American Recovery and Reinvestment Act of 2009, it gave homeowners a 30 percent tax credit for qualified energy-efficient home improvements, including replacement windows that have a 0.30 U-factor and a 0.30 solar heat gain coefficient. This might just be the beginning. "Dual-pane windows were invented back in 1865. So in 1870, they were truly best of class," Kevin Surace, president and CEO of Serious Materials, told the Democratic Caucus Job Summit in January. "But I am thinking, 140 years later, and we call that energy efficient?" Serious Materials is calling for windows to be R5 or higher. "Surely R7+ will be standard," Surace says. "[It] may be code driven or simply energy-cost driven." The DOE and the American Architectural Manufacturers Association (AAMA) agrees. To help lower costs for the windows, the DOE is eyeing a volume purchase program of R-5 windows and low-E storm windows, as a way to expand the market. "Even though the energy benefits of R-5 windows are exponential, their current cost inhibits their widespread acceptance," says Rich Walker, AAMA president and CEO. The DOE program should make them more affordable, he says.
7. Hybrid water heaters heat up.
Though tankless water heaters are said to be highly energy efficient, many consumers and builders aren't convinced and prefer their traditional units. Manufacturers such as Rheem, GE, and A.O. Smith are now introducing a new class of hybrid products that offers the benefits of both tank and tankless systems. Using various types of technology, the products heat water like a tankless product, but they also contain a reservoir like a tank unit. In some cases, the efficiency rating of some units is as high as 90 percent, meaning they are Energy Star rated and eligible for the federal tax credit. Energy efficiency is the driving force behind innovation in the water heater industry, A. O. Smith says.
8. Agricultural waste comes home.
Today, you can buy building products made from the waste of several manufacturing sectors, but Michael Anschel believes "agricultural waste products are going to make their way into an increasing number of building products." Diverting waste from landfills is a noble deed because it eases the demand for virgin natural resources. The trend has already started with products made from the waste of sorghum, palm, and wheat production, but look for the effort to be expanded into more categories, which will offer "everything from insulation to interior finishes, flooring, to all of the millwork products," Anschel adds.
9. Energy monitoring affects behavior.
Human behavior is often forgotten in discussions about conserving energy or water. Even the most efficient product can be wasteful if used improperly. That's why Kaplan Thompson Architects in Portland, Maine, included an energy feedback system in its award-winning BrightBuilt Barn, a LEED-certified, net-zero–energy building that was also used as a demonstration project for a new way to build houses. Using red, green, and yellow lights, the system lets the owners know their energy usage levels. Bulbs turn green when the building is using less energy than it's producing, yellow when it's borderline, and red when it exceeds usage goals. More sophisticated "dashboard" systems allow homeowners to see accurate energy consumption levels in real time. Studies have shown that when people see how much energy they are using, they will alter their behavior.
10. Energy modeling software shows us the way. 
Energy Use in the Home (2005)
41% Space heating
26% Lighting and appliances
20% Water heating
8% Air conditioning
5% Refrigeration
— U.S. Energy Information Administration, Residential Energy Consumption Survey 2005
If you are seeking LEED certification, you are required to use a computer-based "energy modeling" tool, which simulates what energy use would be for a year of operation. "This is [employed] to measure energy use of a building and to quantify the savings attributable to the proposed design," Seville says. Consultants believe the use of this tool will grow whether a builder is seeking certification or not. "Energy modeling software is very complicated and only accurate to a certain extent," Seville adds. "It will get better and cheaper. It's a terrible predictor for energy use, because behavior is the best tool, but it gives you some baseline to start from."
Courtland Building Company would love to help you plan your green home, call us today: (281) 932-4494
Visit our website: www.courtlandbuildingcompany.com Follow Us on Facebook – Twitter – LinkedIn